All of our gate styles are available as either single or double gates.
Single Gates
These are gates comprised of a single door.  They come with a set of jambs, standard hardware, and hardware for installation.  We recommend these gates for openings up to 44 inches although we can build double door gates for 40" and wider.  Keep in mind that our gates are very heavy since they're made out of solid oak and the wider the gate, the wider the swing.  
Double Gates
If your space exceeds 44 inches we recommend double doors.  We can also build double doors for widths under 44" as long as the space isn't too narrow.  These gates also come with a set of jambs, standard hardware and the hardware for installation. 
Standard Height
Our gates have a standard height of 33 inches and are 1/2 off of the floor.  We can build them higher than 33" but there will be additional shipping and production charges.  
Hinges
All of our hinges come in oil rubbed bronze unless you request another finish.  
Standard Hinge: Our standard hinge is a 3 inch mortised butt hinge.  Paired with our jambs, this allows the gate to only open in one direction.
Pivot Hinges:  Most commonly used on our double doors, these allow the door to swing in both directions.  Also known as saloon door or café door hinges.  Due to their design, the use of these is limited to our lighter doors.  (Available in the options section for an additional charge) 
Spring Hinges: These are similar to our standard hinges but have a built in spring which pulls the gate shut.  Because of the limited capacity of the spring, they will not work with our larger heavier doors.  (Available in the options section for an additional charge) 
270° Hinges: If you plan on opening your gate 270 degrees to store it along your baluster or wall acting as a partition we suggest these hinges.  They will add about 2 inches to your door swing and 2 or more inches to the width of your gate depending on the width of your newel or wall.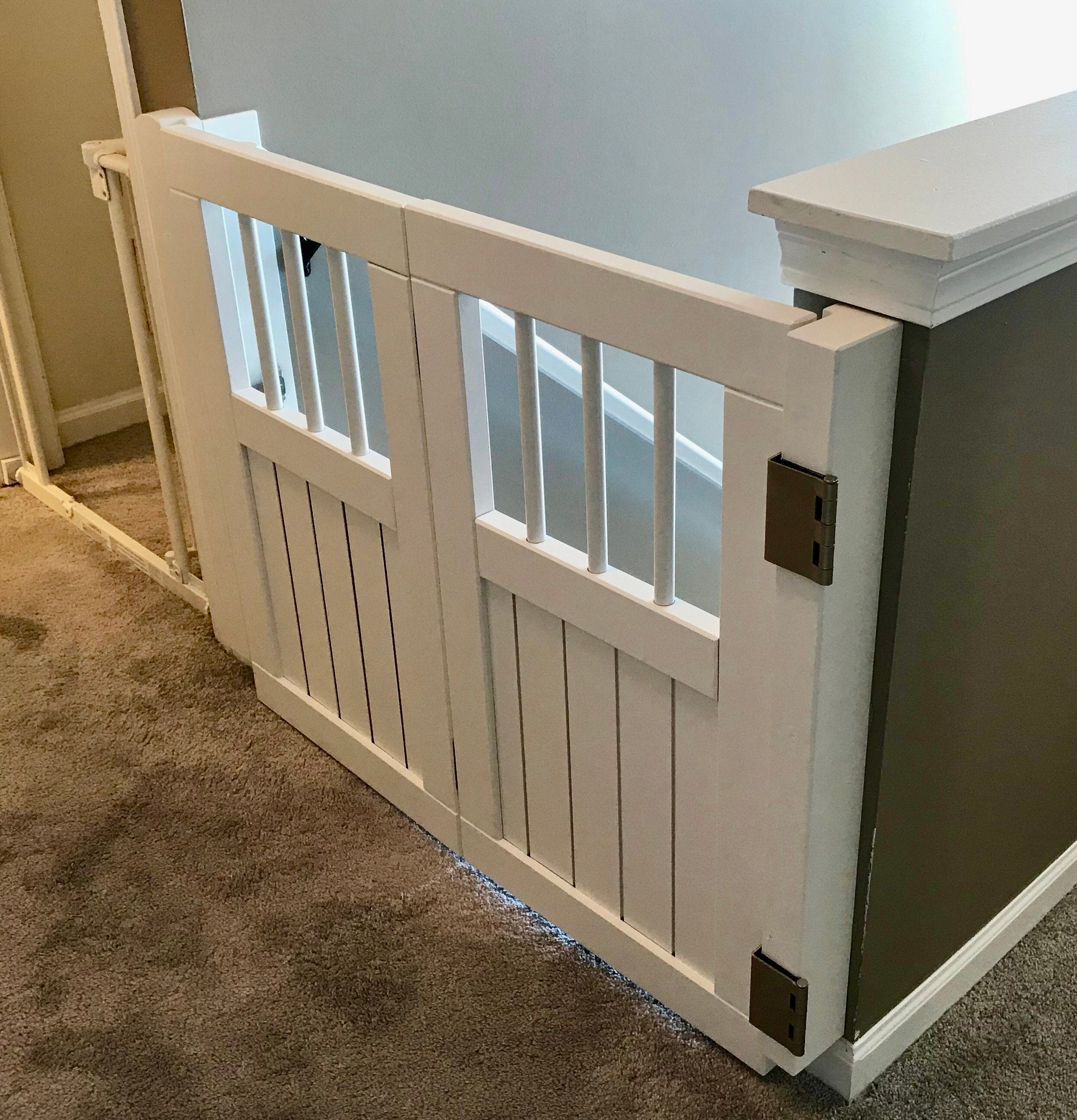 Clamps
Depending on your opening, you may need or want to order clamps. Our clamps are designed to attach the jambs to newels or balusters without drilling into them.
Attaching to newels:  
Since our gates are built to last several lifetimes, we recommend attaching them directly to your opening whenever possible.  It gives you more of a built in look,  but we understand this is not always an option.  To attach the jambs directly to your posts, you must have a flat area at the top and bottom of your post.  Some posts only have a flat area for attachment at the bottom, in which case you'll need to order 1 clamp for that post.  Keep in mind that the standard height of our gates is 33".    If your post is round at both the top and bottom you'll need to order 2 clamps.
Attaching to balusters:
We can attach to balusters when we have to but we'll need 2 balusters for this.  If your balusters are both equidistant from the wall, you'll need to order 2 clamps and there is no extra charge.  If your balusters are not equidistant, you'll need to purchase the drafting charge along with your clamps.  These types of situations take extra time because the gate needs to be drawn out exactly in order to figure out how to build these clamps.  The extra charge for this is $45 and it can be purchased from our options section along with the clamps. 
Sliding gates 
You can have your gate built into a sliding gate.  
We also offer sliding gates in most of our gate styles.  The big consideration here is whether you have a wall adjacent to your opening that is as long or longer than your opening.  This is where your gate is stored when it is opened.Because of the way these are constructed, sliding gates are 7 inches wider than your opening.  Be sure to measure your wall to make sure it allows for the extra length when having the gate stored open.  The sliding gate comes with 2 inch rubber wheels, the mounting guides, a wall jamb and a hook and eye latch.  To order a sliding gate, measure the width of your space and order the appropriate gate size along with the $100 sliding gate option.  If your opening falls into the 41"-44" width, there may be extra shipping charges. Contact us and we can check that out for you.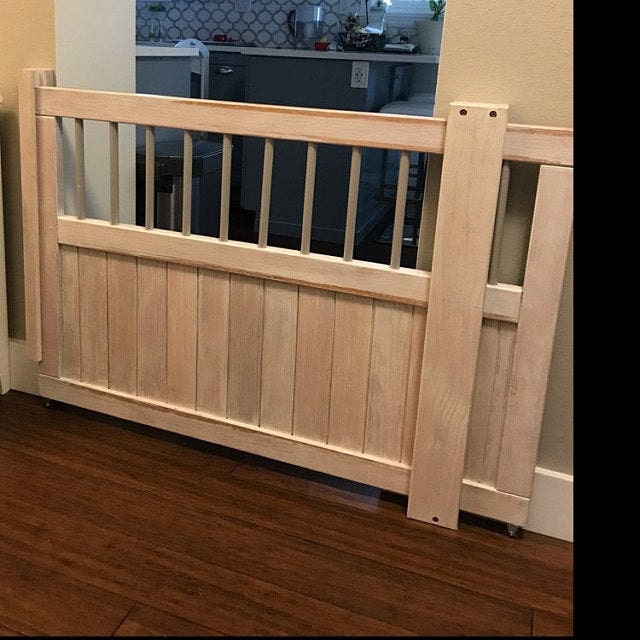 Latches
All of our latches are solid steel.  Unless otherwise specified, they come in a powder coated black finish.
Surface bolts:  This is the standard latch shipped with our single gate.  The surface bolt is hand forged in the USA.  Mounted on the off side, (away from the swing) it is screwed to the gate and fits into the mortised latch plate in the jamb.  When the gate is shipped, the bolt is not attached.  After you mount your gate, you can attach the bolt so it lines up with the latch plate. 
This is also an option for the double gate with a surface mounted catch.
Flip Latch:  Shipped with our double door gates, the flip latch can be mounted on either side of the gate.  If your gate is intended for a toddler we recommend mounting on the off side.  
Hook and Eye:  This is the standard latch for our sliding gate, but can be used with all of our gates.
Magnetic Latches:  We use thes magnetic latches exclusively for our sliding gates.  These are not child proof and designed only to hold the gate shut.
Child proof latches
For our gates that are solid at the top, or for gates that are for pets, the above latches are no problem.  Your toddler would have to reach over our 33 inch high gate and undo the latch which is a difficult task for a toddler.  Many of our customers order gates with the top parts of the gate or the entire gate made with balusters or slats.  Once your toddler is mobile enough to stand up, there may be the possibility that he or she can reach up and undo the latch.  To make sure this doesn't happen, we offer modified door reinforcement locks that are child proof and withstand up to 800 lbs of pressure.  These locks fit our single gates. Unfortunately, because of the way they work, they don't fit double door gates.
Door Reinforcement Lock:  The 3 inch lock is attached to the inward side of the jamb.  The two finger operation (a 3 inch spread of thumb and index finger) makes it ideal for child proofing a gate.  We have modified the original design to fit our gates.  
Our double door gates come with heavy duty flip latches.  Again, depending on the size and dexterity of your toddler, they may be able to open the gate.  When you order your gate we will ask you whether it is for a child or your pet.  Your answer will determine the latch we use.  If you order a double door for a child we will supply a Boerboel gravity latch modified to fit our gates.  By design this is also child proof.   We try our best to make sure your child or pet stays safe.  So please look at all of your options before you order and we'll do our best to get you what you need. 
Finishes
We have a wide variety of finish colors available for our gates.   Most of our gates are finished with boiled linseed oil and Briwax.  Liming wax, aged wood, Transtint dyes or General Finishes stains are also options, creating a color palette in which you are sure to find something you like.  Unfortunately, we are not able to use the same stain that you have in your home because the process for us is different.  We have a very dusty shop and oil based stains with polyurethane top coats don't work well for us.  99% of the time our customers find one of our finishes that works well for them, but if you're in the 1% that doesn't, we can always send your gate unfinished and give you a credit towards finishing.  You can see a lot of our finish colors in the gallery photos our customers have sent us, but the best way to make the final decision is for us to send you some samples.  If you tell us or show us what type of look you're going for, we'd be glad to send you the samples we think are the closest.
Painted gates  
We also can paint your gate but we do have an additional charge for this process.  The charge covers the additional labor, material, and paint for the gate.  Instead of building your gate out of reclaimed oak, our painted gates are built with new, hard maple because it gives a much nicer, smoother painted finish than oak.  We currently offer two colors from Sherwin Williams, 7005 pure white and 7103 whitetail.  We use a water based eco friendly lacquer paint that has a beautiful and hard, satin finish.    We can also paint in custom colors and that is an additional charge along with the painting charge.  (Available in the options section of our shop)
Cat Doors
Because of the way our gates are constructed we can only put cat doors in certain styles.  Please contact us before you place your order.  Cat doors are an add on option and available in our shop.  Cat doors any bigger than 3 inches will result in your gate no longer being considered child safe by  ASTM (American Society for Testing and Material) standard.  (Available in the options section with an additional charge)