How To Choose Your Dog Gate? We've built dog gates for over 500 customers. Currently  we have over 20 models available.   All of our gates are designed for practicality, functionality as well as aesthetics. So that when you put them in place, you can walk away without worrying that anything bad may happen. Here are the key elements to pay attention to when buying a dog gate. They may seem simple but your dog's safety and your own sanity depend on it, so the level of quality has to be high. 
Size
You have to consider both the height and width of the gate to ensure it can do its job. If you have a large breed of dog, purchasing a taller gate is a necessity. Big dogs could step, climb, and even jump over a gate if it is too small. If you have a great dane, you may want to pay more attention to the height of the gate. You also need to consider the width of your gate. For openings under 44 inches we recommend our single gate for larger spaces our double gates. We will custom fit the gate to your opening.  Our gate can replace existing room doors or be placed anywhere you need them. Most gates will be used as much or more than regular room doors, that is why our gates use sturdy metal hinges and are wall mounted.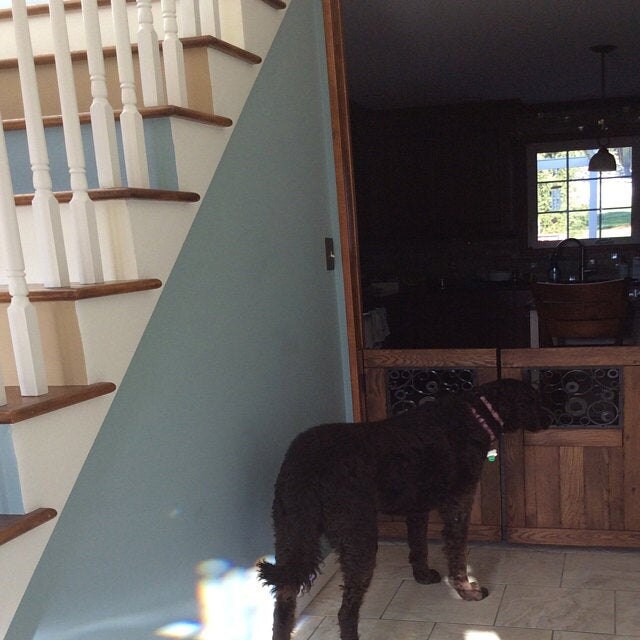 Placement 
Before you buy, consider where you will be mounting your gate. This will determine the size of gate you will need.   Our gates are priced in 3 inch increments.  You need to make sure the placement of the gate effectively blocks off the area you wish to. This means that if your living room has two entrances, consider whether you would need two separate gates or if one gate will keep your puppy where it needs to be, depending on the layout. Also  you need to consider if the placement of your gate would impede an existing walkway, or be just plain frustrating.  For example, if you place it in a doorway you have to consider the swing.  If it swings in front of another door this will maybe not annoy you but the person in the other room or could be too wide and swing against a wall.  That is why in addition to our regular gates we offer a sliding door option.  Also we offer a variety of hinges that close the door for you, let you lift off the door or have it swing both ways.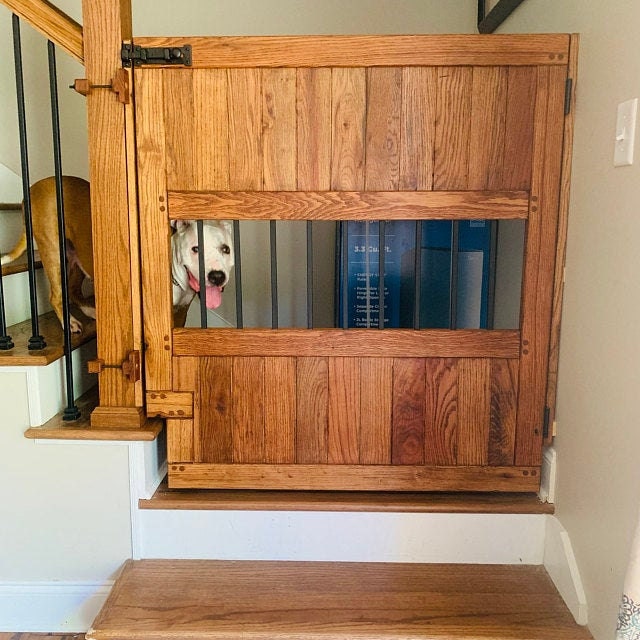 Purpose 
If you need a temporary gate just for a few weeks of use, we are not your answer; if you need a permanent long term solution, one of our gates that blends with your home and is ascetically pleasing will be needed. If the purpose of the gate is to separate two dogs whilst eating or to keep your pet from eating litter snacks we build or bars with a maximum of 3 inch spacing. This will prevent possible biting or scratching. Our materials are solid wood and metal.  The material is strong enough to stop a baby rhinoceros, so it is definitely strong enough in case one dog tries to get to another.If you are worried your puppy might escape.  You do not have to buy several gates. Our gates are for all sizes.  At three inches between our balusters and most gates having the solid wood lower part a puppy cannot escape, but the space is wide enough that there is no chance they could get their paw through but not get them out.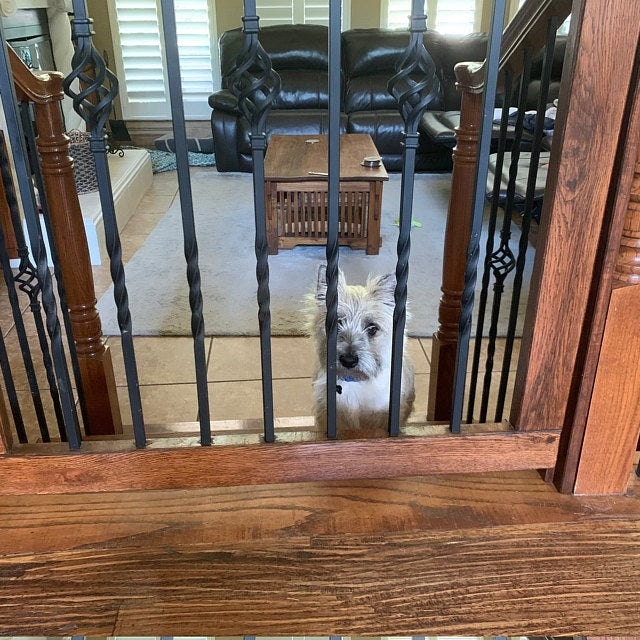 Materials
Other manufacturers are being very creative these days and do make an effort with the gates' material and design; You can get pic which is easy to clean and chew through, fabric which will maybe not stand up to a determined Chihuahua, A flimsy pressure mounted wood cate that is nothing more than a chew toy for your doberman and so on.  We take the sturdiness of solid metal and 1 1/4 thick solid oak to make a gate that is both virtually indestructible and has the beauty of wood. Our wide variety of gates lets you choose depending on your aesthetic preferences and also the size of your dog. Obviously, by using high quality of the materials our gates are resistant to intense chewing and attempts of destruction.  Our gates are heavy they average between 40 to 70 pounds, which is important if you have a big dog.There is no chance even the largest dog could  break it by jumping at it or even leaning on it. Our gates are build with traditional joinery, solid wood to wood connections without any exposed nails or screw that could harm your pet. You need to consider the breed of your dog as taller breeds or those with stronger, more agile physiques will be able to jump higher.  That is why we custom build our gates to your and your dogs needs.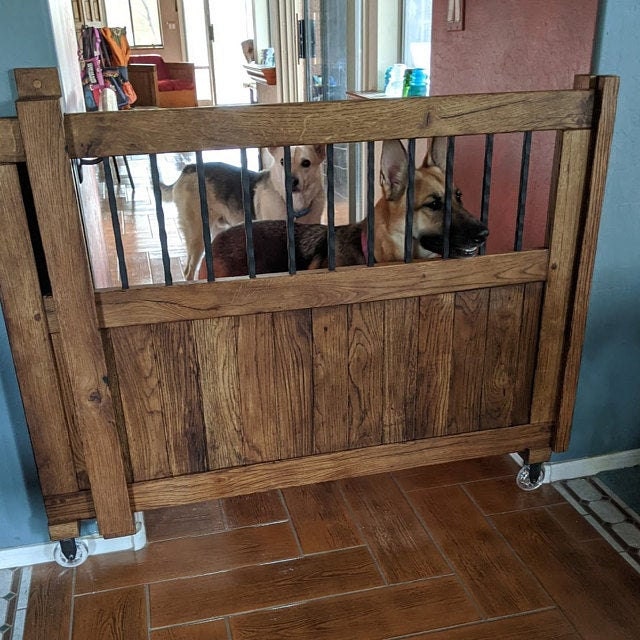 Installation
Whether you enjoy construction or are a novice with tools, our gates are easy to install and come with extensive easy to follow instructions. However, if you struggle, we are just a text or phone call away to help you get your gate up and running.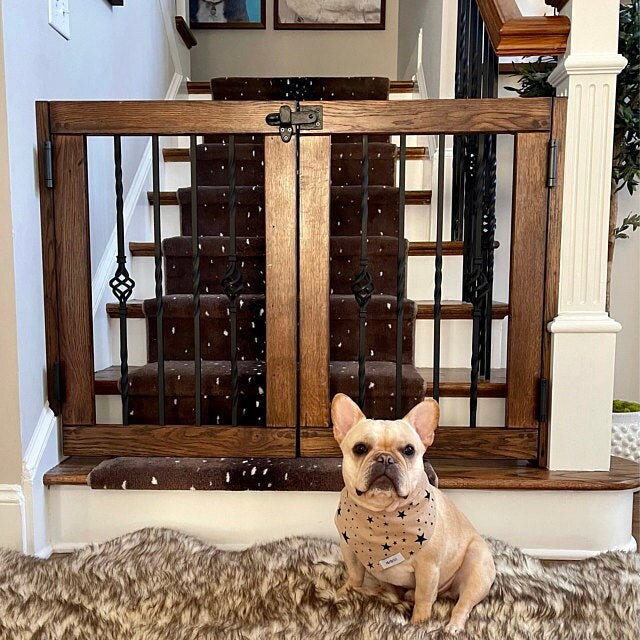 Safety This is one of the most crucial elements you should consider before purchasing a dog gate.  Having considers this looking at the quality and craftsmanship of an Oak Grove Woodworks gate should help you decide.   Our gates exceed the American Society for Testing and Materials (ASTM) standards.  All dogs have their own personalities.  They differ by breed, physique, age, temperament, and the list goes on.  Maybe  your dog likes to jump, you may have to consider how high a gate would deter him from trying.  Maybe your dog likes to look through to gate to see what you are up to.  Our gates will not let your dog get stuck, fall over on him, have anything that will stick out or splinter.  You know your dog better than we do.  So we will work with you to help you build a custom gate that makes both of you happy.No matter how strong your dog he will not be able to break our gates and injure themselves.  Our gates all have solid hand forged steel latches that will dissuade even the most determined canine.  We understand that there are a myriad of factors that can impact safety and that we cannot control all of them, but we can try.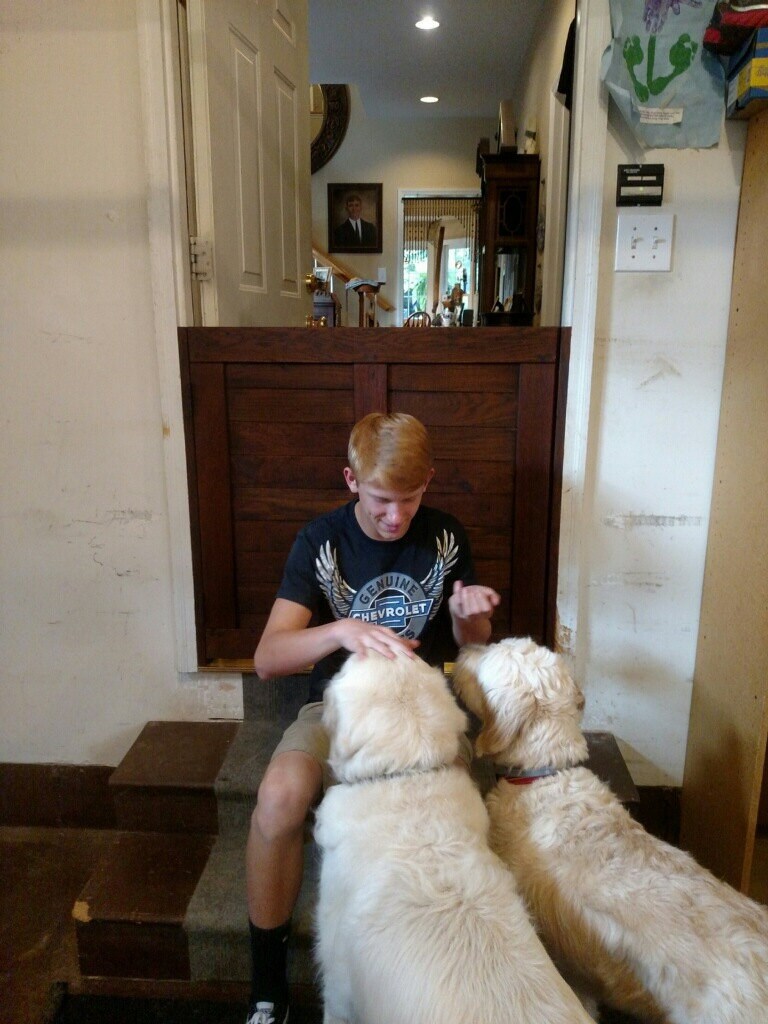 Security
Security can also be defined as the purpose of your gate.  It is designed to keep your dog in or out of a certain part of the house.  Unlike movable or cheap pressure mounted gates our gates are a permanent fixture designed to have one purpose.  The purpose is to keep your dog safe and to safely do so. If you have a puppy or a full grown great dane our gates give you the peace of mind that even if you aren't watching them they are safe.   Your dog or  puppy will not be able to push through, crawl under or knock down our gate.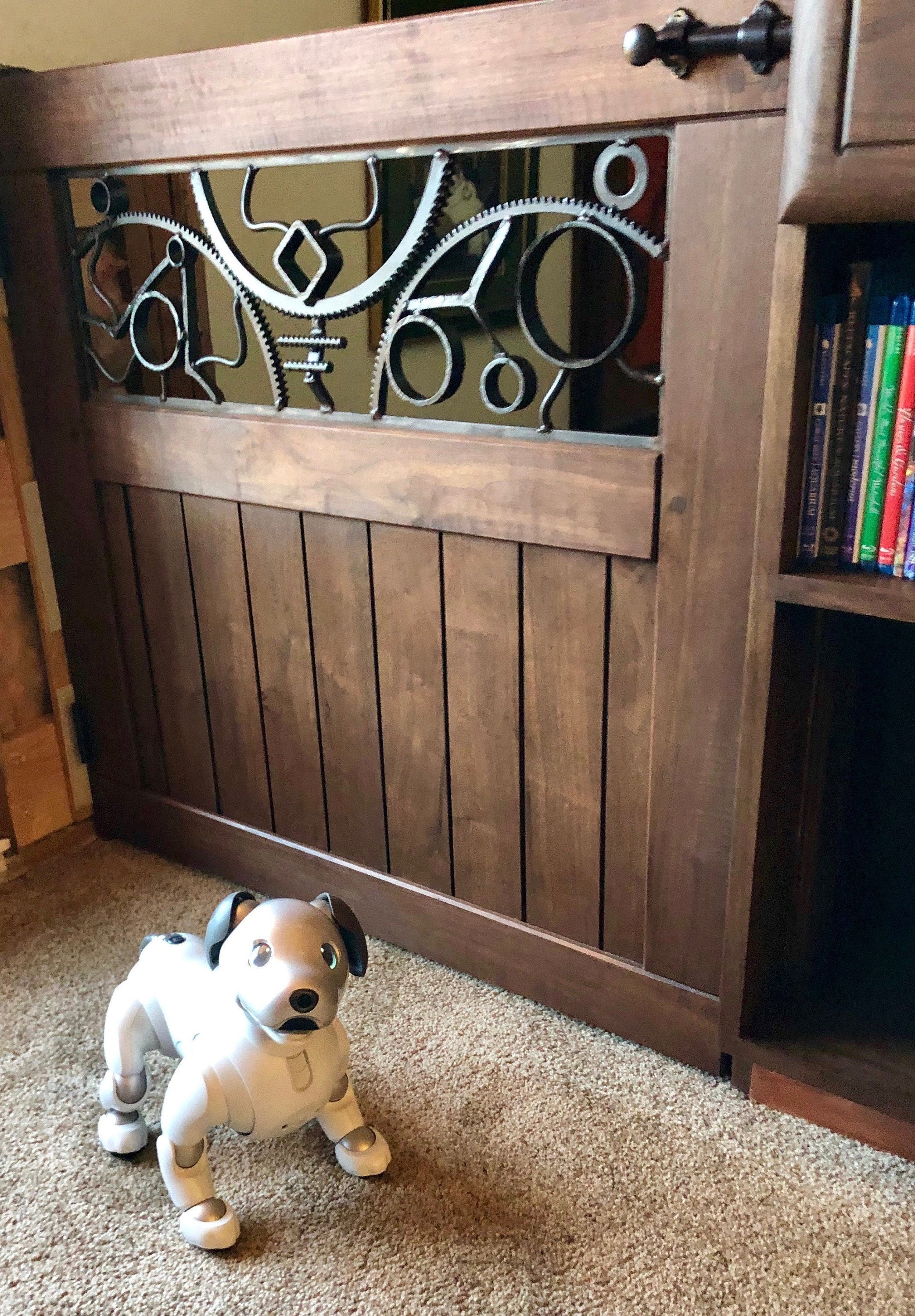 QualityThe quality of our gates is reflected in the high grade materials we use and how in our construction.  We build our gates out of locally sourced oak and maple.  We pride ourselves on building high quality gates that are still functional and esthetically pleasing.  We use solid steel mortised hinges, hand forged latches and other high end materials.  Our gates are custom build in our shop to your specifications.  A high-quality dog gate is essential for everyone as otherwise, it will not work effectively. Check out our reviews and see what other dog owners have to say.  Many owners are also concerned about the aesthetics of a dog gate. If you are worried, be sure to check out our various listings.  If you do not find what you are looking for we will work with you to help you design something you like.  We offer a wide range of colors, and will send you samples to match your home once you place an order.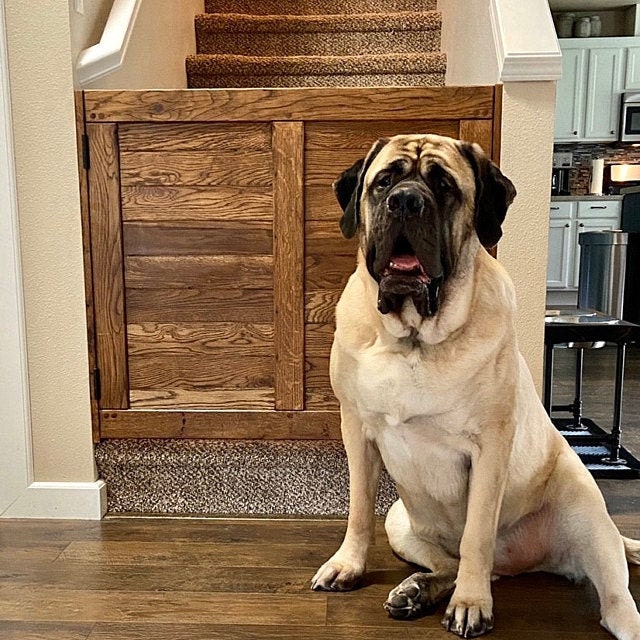 DurabilityWe are so confident in our gates we offer a warranty for the time your own your gate.  Our gates are designed for everyday traffic.  Solid hinges and latches are built to last. Wood and metal are some of the strongest materials nature has to offer and that is exclusively what we use to build our gates. If you are ever unsure about the material's strength, check out the reviews of other buyers. They are likely to have mentioned how tough the product is and which breeds have worked well with it.  
Options
We offer several options for our gates.  We offer clamps if you want to attach your gate to a baluster of newel.  A cat door if you want to give your cat an option to get away from your dog.  A sliding door if that is what suits your space better.  If you look at our catalog you will see a wide variety of styles to choose from.